I'm at D-3 for departure round the UK and Ireland supporting the Andrew Cassell Foundation. It's all getting very real very quickly now. I never thought that I'd manage to climb a mast again, but with the help of some trainers in Yorkshire, and the encouragement and mentoring of the Andrew Cassell Foundation I succeeded in doing that independently a few days ago. This is the sort of transformation that the Foundation can bring about in disabled people's lives, and why I want to raise funds to support them.
You can donate funds to my Crowdfunder which channels money directly to the Foundation.
The plan is to sail Trilleen west starting on the 15th of August, with a departure from Cowes Corinthian at 1600. Visitors or well wishers are very welcome.
Any donation you can make will help the Andrew Cassell Foundation get more disabled people sailing. I and the foundation appreciate the enormous pressures that the cost of living crisis are imposing right now. However I believe this is more important now than ever becuause the financial pressures bear especially heavily on disabled people and risk denying them access to any leisure or sporting activities at all. This is a tragedy because it is through activities like disability sport that disable people so often are enabled to improve their health, and contribute to a greater degree to society.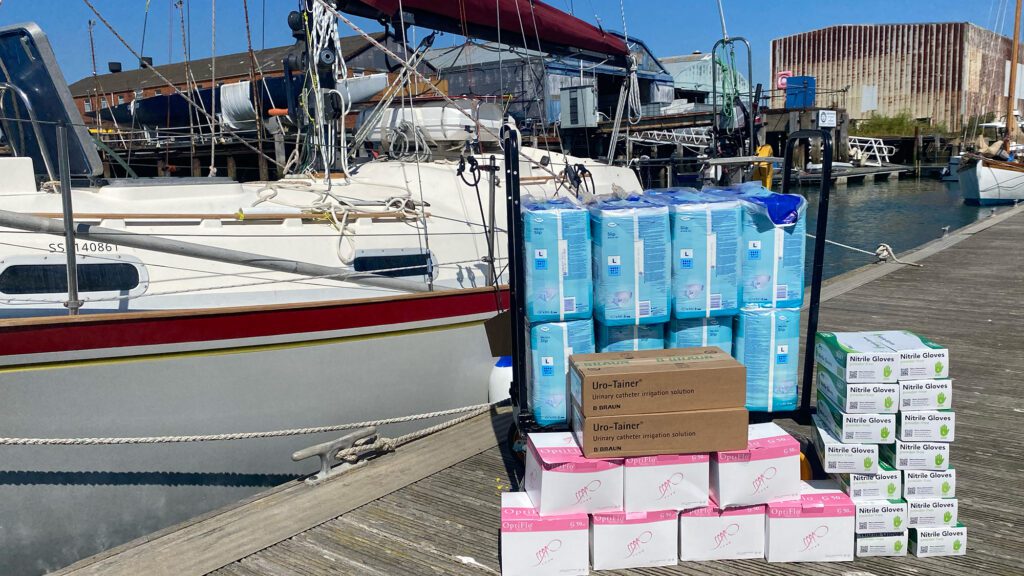 Storing ship in the intense heat down here in Cowes, where the UK Met office has declared a Amber Heat warning for extreme heat has been extremely trying. The consequences 9mm of polypropylene covering more than half my legs, an incontinence pad, and the bag which contains the urine from the suprapubic catheter are akin to being boiled in a plastic bag. Not fun, but the worst of it has been done. In the late evenings it has been more tolerable and I've been able to do some work on deck. Mind you, work on a sailing boat is never done so there are plenty of small jobs still to do. There will be enough un-sailable days in the next three months for all of them.
Trilleen, like her tanks, is pretty much brim full now. I didn't think that I'd actually manage to store 90 days of medical supplies on board, but with some fiddling we have got there. Food wise we are probably at 60-90 days of dry and canned food, so all in all we are in very good shape. In fact she looks better in the water, trim and balance wise than she was before. I'm only waiting on one thing, which is an extended length of anchor chain. If it doesn't make it it isn't a disaster, as I've got plenty for the south coast of England and I can embark more at Plymouth if all else fails.