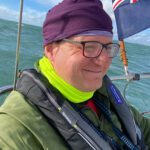 Hi I'm Ian Wyllie, Welcome to Sailing Trilleen…
I live with a spinal injury and mental health issues
I'm sailing round Britain and Ireland. Solo
My sail is raising funds for, and awareness of, the Andrew Cassell Foundation.
The Foundation help disabled people, like me, gain maximum independence in sailing – and racing.
The Foundation help disabled people, like me, gain maximum independence in sailing – and racing.
About me…
A spinal injury in the Royal Navy left me with mobility continence and mental health issues. After gaining my PhD at the University of Southampton my health deteriorated and I became seriously ill.
I spent seven years in a nursing home.
Sailing with the Andrew Cassell Foundation and the mentoring they provide was pivotal to my resuming independent living. Now I'm preparing to sail round Britain and Ireland to support them and cement my rehabilitation.
Learn More about where Ian and Sailing Trilleen is…
Clear nights at sea fall as a diamond studded cloak over dusk. Planets and the navigation stars first among the revealed then the lesser lights before the great galactic smear of the Milky Way oozes into vision. The privilege of being a disabled person free to sail, to venture out into the wild, was never … Read more

---

A 245 mile sail from Rossaveal, Galway Bay to Islay, Scotland, completed Trilleen's passage round the west of Ireland. It's good to have that bit of sailing finished before the weather closes down for the winter. Trilleen and I had been loitering in Rossaveal on the north coast of Galway Bay for a few days … Read more

---

Trilleen's log: 13 September 2022 After many days wind bound in Kinsale waiting for the passage of a fairly horrible depression, during which I was royally looked after by Kinsale Yacht Club and got to participate in one of their excellent Sailability activity days – I ventured out round the corner and turned towards the … Read more

---
Videos from SailingTrilleen
Solo Round Britain and Ireland
Sailing solo Round Britain and Ireland is one of the biggest sailing challenges available in home waters. I'm doing with disabilities which affect my mood, mobility and broader health making an even bigger challenge.
I'm sailing in Trilleen, my aged Vancouver 27 who is on a rehabilitation journey of her own, an 8.5m yacht with a long keel making for a stable and safe sailing platform.
I'm on a slow journey aiming to stop often to allow me to raise awareness of, and funds for, the Andrew Cassell Foundation in harbours, yacht clubs and among rehabilitation professionals.
Trilleeen and I are sailing outside the waypoints for the RORC Sevenstar Round Britain and Ireland race over 2022 – 23, beginning in August after Cowes Week. After sailing round Ireland I will break the trip in Glasgow, overwintering the boat before recommencing in the spring.
I'll also be providing disability access advice to waterside locations. Many older people stop sailing because of age acquired disability like arthritis – and young families often find navigating the waterside area with toddlers challenging. Good access benefits everyone…
Can you give to get more disabled people sailing sooner?
Donations are via Crowdfunder which accepts all debit and credit cards. Funds raised go direct to the Andrew Cassell Foundation shortly after you give.
About the Andrew Cassell Foundation
The Andrew Cassell Foundation is a unique charity that helps disabled people reach maximum independence on the water as sailors. Using racing training, advanced coaching and skilled mentoring the Foundation enables and equips people to take up or resume sailing as a sport for life.
The Foundation makes outsize impacts on the lives and rehabilitation journeys of those who participate in its training. In my case it has been a critical part of my returning to independent living.
Learn more and receive an exclusive project briefing…