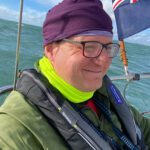 Hi I'm Ian Wyllie, Welcome to Sailing Trilleen…
I live with a spinal injury and mental health issues
I'm sailing round Britain and Ireland. Solo
My sail is raising funds for, and awareness of, the Andrew Cassell Foundation.
The Foundation help disabled people, like me, gain maximum independence in sailing – and racing.
The Foundation help disabled people, like me, gain maximum independence in sailing – and racing.
About me…
A spinal injury in the Royal Navy left me with mobility continence and mental health issues. After gaining my PhD at the University of Southampton my health deteriorated and I became seriously ill.
I spent seven years in a nursing home.
Sailing with the Andrew Cassell Foundation and the mentoring they provide was pivotal to my resuming independent living. Now I'm sailing round Britain and Ireland to cement my reh
Learn More about where Ian and Sailing Trilleen is…
An incident during Trilleen's recent launch has resulted in unrecoverable damage to her rig. This means I won't be continuing my Round Britain and Ireland sail until she has a new mast in place. I'm still working through he full impact of the schedule changes and will keep you all up to date here and … Read more

---

As a disabled solo sailor circumnavigating the waters of the UK and Ireland, one of the challenges I've had to deal with is managing incontinence at sea. I have good news: it can be done, and done well, even on a tiny boat. My specific issues relate to a spinal injury, but I've learned that … Read more

---

As a solo disabled sailor, I have had the opportunity to explore many different marinas and anchorages around the UK. While some of these places have been accessible and welcoming, others have presented challenges due to a lack of accessibility in their design and infrastructure. Accessibility is not just about creating equal opportunities for people … Read more

---
Videos from SailingTrilleen
Solo Round Britain and Ireland
Sailing solo Round Britain and Ireland is one of the biggest sailing challenges available in home waters. I'm doing with disabilities which affect my mood, mobility and broader health making an even bigger challenge.
I'm sailing in Trilleen, my aged Vancouver 27 who is on a rehabilitation journey of her own, an 8.5m yacht with a long keel making for a stable and safe sailing platform.
I'm on a slow journey aiming to stop often to allow me to raise awareness of, and funds for, the Andrew Cassell Foundation in harbours, yacht clubs and among rehabilitation professionals.
Trilleeen and I are sailing outside the waypoints for the RORC Sevenstar Round Britain and Ireland race over 2022 – 23, beginning in August after Cowes Week. After sailing round Ireland I broke the trip at Islay before moving to Inverness for the winter. Unfortunately a launching disaster also broke the trip when my mast was damaged early in 2023 during a handling accident and at the moment the trip is on hold awaiting a new mast.
I'll also be providing disability access advice to waterside locations. Many older people stop sailing because of age acquired disability like arthritis – and young families often find navigating the waterside area with toddlers challenging. Good access benefits everyone…
Can you give to get more disabled people sailing sooner?
Donations are via Crowdfunder which accepts all debit and credit cards. Funds raised go direct to the Andrew Cassell Foundation shortly after you give.
About the Andrew Cassell Foundation
The Andrew Cassell Foundation is a unique charity that helps disabled people reach maximum independence on the water as sailors. Using racing training, advanced coaching and skilled mentoring the Foundation enables and equips people to take up or resume sailing as a sport for life.
The Foundation makes outsize impacts on the lives and rehabilitation journeys of those who participate in its training. In my case it has been a critical part of my returning to independent living.
Learn more, contact Ian or get help